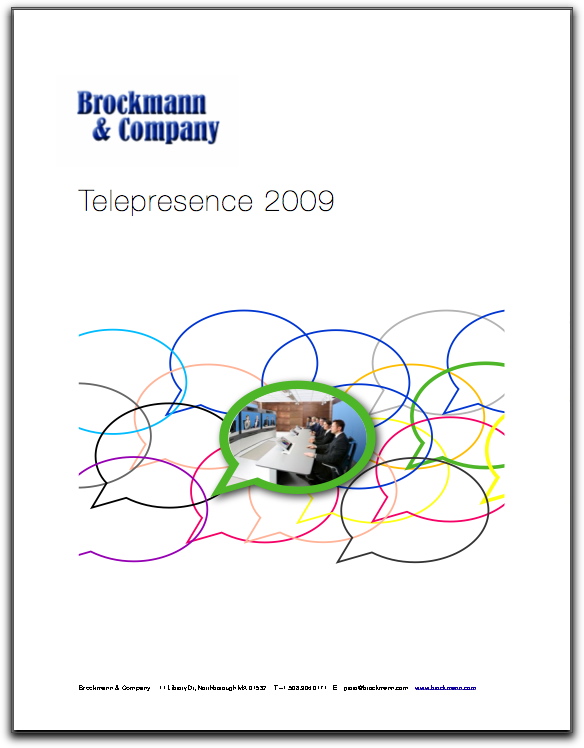 This report reviews the state of experiences of a panel of 229 business users from around the world conducted in mid-2009.
Telepresence is a premium class of video communications products and services, as a room-in-a-room implementation where the experience engineering has resulted in highly controlled lighting, wall treatments and greatly managed operations. Although pioneered by a number of innovators, the telepresence as a market only really got a serious boost of credibility and energy with Cisco's announcements in October 2006.
Now, for the first time since the 2007 panel at the heart of the Brockmann & Company reports, The Perfect Storm, Telepresence: Seeing is Believing and Telepresence By Industry a comprehensive review of the state of the telepresence experience is presented in this analysis.
Users are attending more frequent sessions, are spending more time on average in them and expect that frequency to increase more than others, and significantly more than participants in the 2007 panels.
Recent financial results of major video equipment market participants shows that telepresence systems and services sales continue to attract enterprise customers, either expanding their networks or deploying the products for the first time, even during the difficult economic conditions of the middle quarters of 2009. This speaks well to the future of this segment of the market, and is confirmed in the experiences of our panel members.
Key findings of The Telepresence 2009 report:
2 x more Telepresence panel recognized that conferencing was very important to the success of their business.

Rating telepresence as important or very important is a strong corollary to high importance of other conferencing technologies – PC video, room video, executive video, web, audio – as compared to others.

Panel attends an average of 2 x more telepresence sessions than others.

Panel is 5 x more satisfied with the telepresence experience than others.
This post has already been read 0 times!
Edit