Asia Lags in Conferencing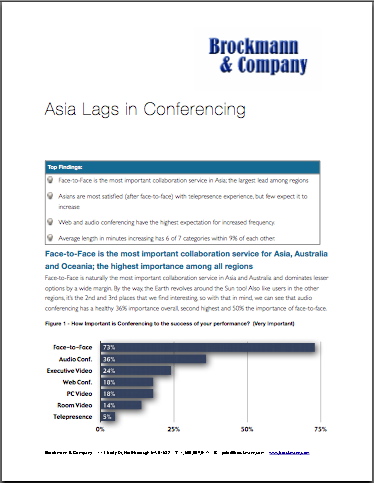 The Asia, Australia and Oceania Conferencing Panel provided details about their experiences and expectations for seven critical collaboration services – face-to-face meetings, audio conferencing, web conferencing, PC video conferencing, room video conferencing, executive video conferencing and immersive telepresence.
On most of these services, the region lags behind the adoption frequency of their North American and European peers and competitors.
This report reviews the importance to business success, the quality of experience, the average monthly frequency, average length and expectations for increases in both frequency and length.
The region's adoption of conferencing services is heavily influenced by the need to work with customers, coworkers and partners from many different languages and cultures, overcoming vast distances, varying service economics and the effectiveness of face-to-face meetings.
This post has already been read 0 times!
Edit