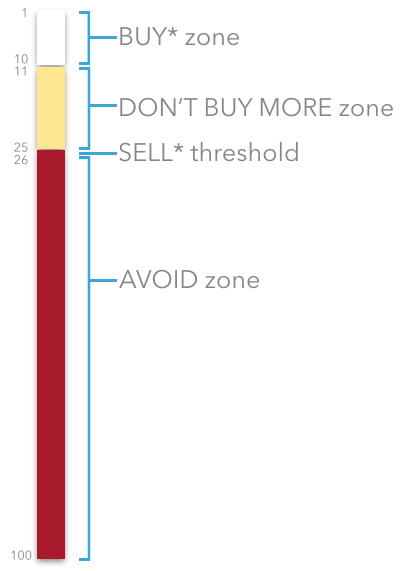 The Brockmann Method rank-orders the stocks of the S&P 100 in terms of their relative Price Momentum. Those with the highest Price Momentum rank at the top of the rankings. Those with the lowest rank at the bottom of the rankings. The ten highest ranked stocks are the BUY* zone. Those in position 11-25 are in the DON'T BUY MORE zone. Those in position 26+ are in the AVOID zone. As the names suggest, the model generally BUYs what's in the BUY* zone, SELL*s whatever's in the AVOID zone and doesn't BUY* more of what is in the DON'T BUY MORE zone. Stocks passing below the SELL* threshold are sold with the proceeds used to BUY* the highest ranked stock of the BUY* zone not already owned.
The stocks in the various zones do change over time. Often a stock will rise and fall in its rankings and maybe rise again depending on its success and the relative success of the other stocks in the Index.
This post has already been read 0 times!
Edit