Euro-Web Conferencing Gets Boost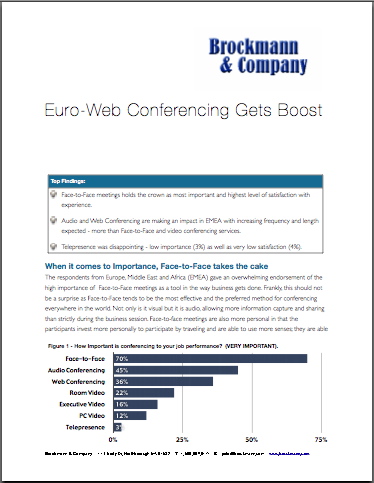 The Europe, Middle East and Africa Conferencing Panel sets out their experience with the range of conferencing services – face-to-face, audio conferencing, web conferencing, immersive telepresence, PC video conferencing, room video conferencing and executive-style video conferencing – detailing the importance to job performance, satisfaction with, average length of session, expectation to increase frequency and length of sessions.
This 5-page report highlights the gaps between the services and points out that web conferencing shows the greatest strength in expectations and satisfaction other than face-to-face. The EMEA region has historically been biased towards face-to-face meetings, as a result of outrageously expensive telecom services, enormous subsidies for public transit services (rail and air travel in particular) and the language and cultural barriers between doing business anywhere on the continent. In the past decade in particular, Europeans, through the auspices and policies of the EU open market initiatives have removed many of these barriers and economic considerations enabling competitive conferencing services. Among the panel members, it is clear that these services – and in particular the highly convenient and inexpensive web and audio conferencing – will play a leading role in driving productivity as the region breaks out of the recent, nasty recessionary time.
Productivity is the way forward to economic growth, and accelerating the frequency and content depth (we expect that most of the reason for increased length of conferences is to discuss issues in more detail) of audio and web conferencing will not only give these services a 'boost', but will also kickstart the economic recovery that the global economy so desperately needs.
This post has already been read 0 times!
Edit