North Americans Prefer Audio Conferencing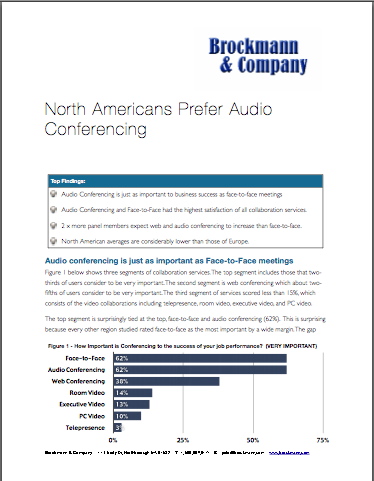 This 4-page report on the experiences of North American audio conferencing users shows how audio conferencing, the collaboration workhorse service is as important to business success as the traditional face-to-face meeting for our business conferencing and collaboration panel. However, from a satisfaction perspective, audio conferencing scores 33% less than face-to-face meetings.
The 161 members of the North American Conferencing Panel from the USA, Canada and Mexico share their views on service consumption habits, expectations for increasing frequency and length of sessions for audio, web, PC video, executive video, room video, telepresence conferences and face-to-face meetings. This report complements our other regional reports on European and Asian Conferencing services.
The language uniformity and cultural homogeneity across the US, Canada and Mexico to a lesser extent, are substantial advantages in favor of the convenient audio conference call. The Panel has totally imbedded audio conferencing into the business culture and can maturely reduce the reliance on the ancient face-to-face meeting.
A surprising result was the low relative satisfaction with telepresence services. This was surprising given the higher density of telepresence services in North America and the high level of experience engineering that is integral to every telepresence experience; panel members just weren't impressed, preferring instead to use other video services or the ultra-convenient audio conference service.
This post has already been read 0 times!
Edit