Acquisition Analysis of Nortel Enterprise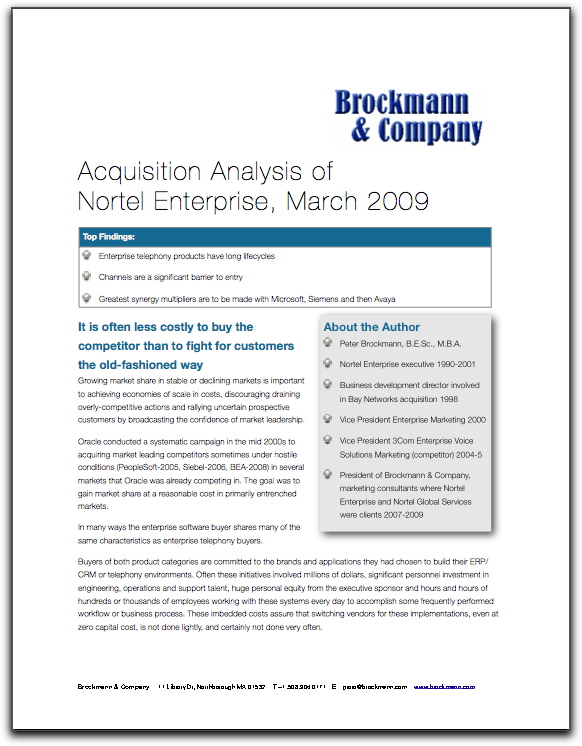 This report reviews the core issues in a Nortel-Avaya transaction and identifies the major challenges for the remaining competitors in a flat/declining market that is the 2009 UC market. As I have blogged many times, it is often less costly to buy the competitor than to fight for customers the old-fashioned way.
Avaya's goals going forward must be to get anti-trust approval, optimize the cost structure (layoffs ahead) and then re-energize the customer base to get the revenues flowing again.
There can be no product line rationalization as this will destroy value and make customers vulnerable to competitor attack. Why would a customer choose an Avaya solution the second time around when they already rejected the vendor some time ago?
There are synergy opportunities in product areas where there are no overlap, or the overlap is non-strategic. In areas like data networking and Microsoft interworking, Nortel has strong advantages so Avaya could sell these through Avaya sales channels immediately on approval. In areas like telephones and mobile UC, Avaya has a strong product set so Nortel should sell these through Nortel channels immediately on approval.
In fact, a Memorandum of Understanding can enable the cross-sales of these product categories while the anti-trust scrutiny takes place.
This post has already been read 0 times!
Edit