Web 2.0 for Business: A New Class of Corporate Memory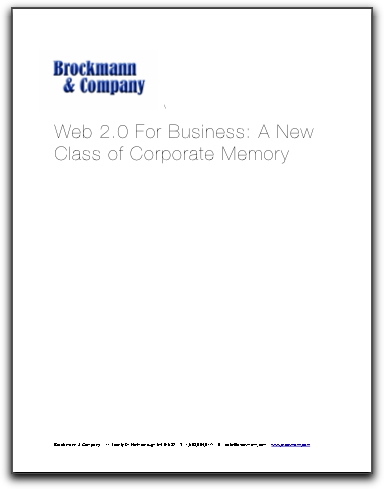 Corporate memory used to reside only in the volatile memory of long service employees since only famous and infamous companies had their corporate histories committed in book form.
Nowadays, the emergence of databases and powerful scripting languages such as PhP have led to the transformation of the humble electronic bulletin board into a class of web application called wikis, blogs and forums (WBF). The pervasive adoption of these web 2.0 applications for business leads to a new form of corporate memory, which greatly improves the productivity of new employees, transfer employees or new managers.
This 20-page, 6,032 word report contains 36 graphs or screenshots detailing the adoption, drivers, priority features and expectations for WBF application in businesses of all sizes. Over 350 participants define the parameters of the Web 2.0 Panel.
Other key findings:
WBF applications are a regular part of keeping informed: users consumed an average of 7.7 forum, 7.3 wiki and 6.4 blog posts last month
Adoption of WBF applications for customers and partners will grow 60-130% in the next 12 months
Improving communications is the top driver for WBF application adoption
Easily searchable content is the most important feature for wikis and forums, while relevant content is the top feature for blogs
This post has already been read 0 times!
Edit