Wikis in MidMarket Companies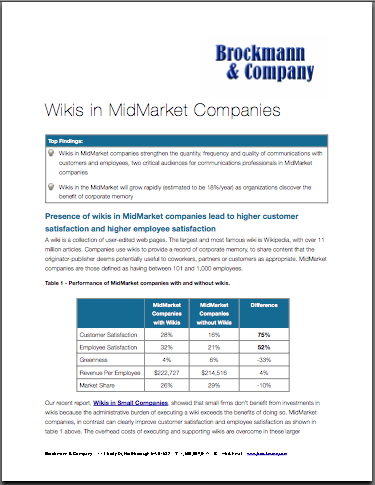 Wikis are growing rapidly in the MidMarket (organizations with 101-1000 employees). They are gaining credibility as a knowledge sharing tool in the MidMarket, where economies of scale in corporate memory and knowledge sharing is proving to deliver higher satisfaction for both customers and  employees.
MidMarket organizations have the multi-site, trans-national and time-of-day challenges that typically cause organizational friction in knowledge sharing, which reduces collaboration and lowers overall organization effectiveness. Wikis work to overcome this friction creating an empowering platform and collaborative environment that improves the attitudes of customers and employees.
This report discusses the business impacts that the presence of wikis create, the consumption habits of users in MidMarket companies as compared to others, deployment plans and drivers for adoption of Wikis in MidMarket organizations.
This post has already been read 0 times!
Edit