According to the Wikipedia, IEEE 802.11n is a draft 2.0 specification due for ratification in September 2008. It is a Wireless LAN radio technique using multiple input, multiple output antennas which delivers up to 248 Mbps (four and a half times faster than the maximum of current 802.11g techniques at 54 Mbps). The WiFi Forum considers 802.11n as a marketing goal for their operation, and have selected WildPackets OmniAnalysis 5.0 as the official 802.11n certification analyzer application.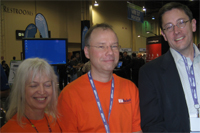 At Interop Las Vegas, I met with (left to right) Ronnie Holland, Corporate Communications, Scott Haugdahl, CTO of WildPackets and John Bennett, VP Marketing. Founded in 1990 to analyze traffic on AppleTalk networks, the company quickly developed PC analytical software, but transposed the easy to control and easy to use capabilities into PC network analysis.
WildPackets has over 5,000 customers and offers expert analysis at all 7 layers of the OSI model supporting a common approach to reporting on application performance using the framework provided by the Application Performance Index, of which WildPackets is a member organization.
Today, the portfolio today includes:
OmniEngine which is meant to be embedded into the network as agents, monitoring flows and streams delivering traffic and data to the other elements of the portfolio,
OmniPeek Analyzer is PC software that delivers the graphical analysis of the data gathered by the OmniEngines around the network. Modules for voice quality.
and the Omnipliance which is a 3U rackable server containing a RAID server.
Key features available in the OmniAnalysis 5.0 include IEEE 802.11n support, network forensic capabilities to reconstruct http and SIP flows, dashboards showing the Apdex, published APIs to enable over 40 plugins developed by a growing developer community for converting WiFi access points into data collection points and even Google Maps integration.
This release also supports Virtual Network Services, so that the virtual connections traversing the computer bus between two or more virtual servers can be studied and optimized without the packets having to touch the physical network, and support for statistics collection on 10G interfaces are available too. (See 10G entry).
The company has 90 employees, is based in Walnut Creek, CA and with their relationship (plugin for IP address to personal identity) with A10 Networks, they can accelerate the dynamics of troubleshooting and make sure they're observing or debugging the connection flows associated with the correct person(s).
This post has already been read 0 times!
Edit