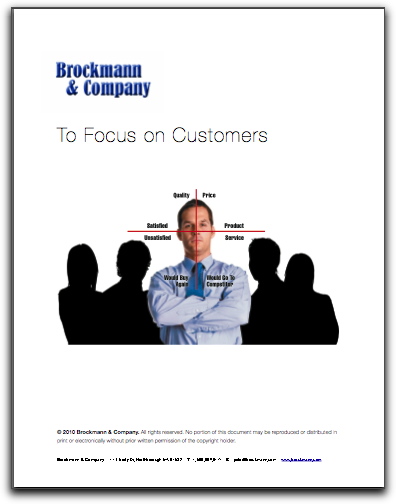 Developed from the Brockmann & Company's Customer Satisfaction Panel of 204 business leaders from around the world, this report brings a fresh perspective on what it takes to deliver higher customer satisfaction – especially in a business climate where everybody else is doing about the same thing.
We've managed to squeeze the common wisdom, and have discovered the uncommon wisdom about what makes an organization really focus on Customers and deliver the kind of superior performance that makes them a leader in their market, something we call a 'Top Performer.'
Customer satisfaction is considered by 90% of members of the Customer Satisfaction Panel to be very important to their business success, yet only 33% consider their customer satisfaction level to be very satisfied. Most consider it to be somewhat mediocre, at only the satisfied level. The more serious gap is the fact that 24% of the Panel have no formal program to measure customer satisfaction.
In this report we deliver the business case for an investment in a formal program to measure customer satisfaction and provide five critical factors proven to lead to higher customer satisfaction. Brockmann & Company compares the processes, knowledge and organizational structures of organizations with very high customer satisfaction with others. We review four hypotheses that contribute to this higher performance:
They measure more often.

They're part of an industry-wide value chain that cares about customer satisfaction.

They use customer satisfaction data to manage the business.

They're organized to measure and manage customer satisfaction.
Two other hypotheses, that organizations with higher customer satisfaction analyze customer satisfaction information across more divisions and attributes, and that organizations with higher customer satisfaction use more measurement techniques than others, failed. In fact, 30% more others measured at least three dimensions than Top Performers, and Top Performers used an average of only 7% more measurement techniques than other, a result within our margin of error.
This post has already been read 0 times!
Edit