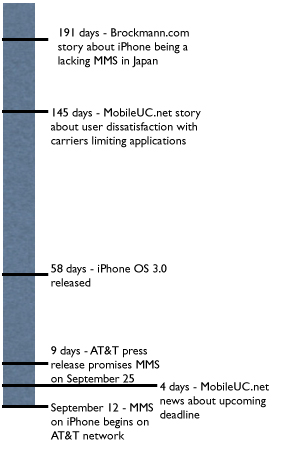 So, AT&T – iPhone users now have MMS service, as of Saturday, September 12, 2009 some 2 weeks before the deadline set by the company in a press release only some 9 days beforehand. This gradual momentum for enabling the service begins over six months ago when Brockmann.com published this blog post about how the iPhone is generally considered a laggard device in Japan because it didn't support MMS and other services considered standard among Japanese mobile phones.
Then while the mobileuc.net site was in beta, a photo story discussing the frustration of users being limited and controlled by their mobile operators was published.
iPhone OS 3.0 was release 58 days prior to September 12, providing one of the enabler technologies that would be rendered useless since the other enabler, the network, was not prepared for the traffic. AT&T announced that despite the OS 3.0 support for MMS, AT&T would not to enable the service (or tethering). After a long hot, hot summer of smartphones, it was announced on September 4, 2009 that AT&T would enable the previously denied service on September 25, some three weeks hence.
But, in an unexpected way, AT&T enabled the service on September 12, some two weeks ahead of anticipated date allowing a gradual service loading as users got the viral message that the service was enabled.
Did mobileUC.net have a role to play in getting the carrier to bend to consumer will? Probably not, but it's fun to dream. 😉
This post has already been read 0 times!
Edit