Soltrite Resets My Expectations for Desktop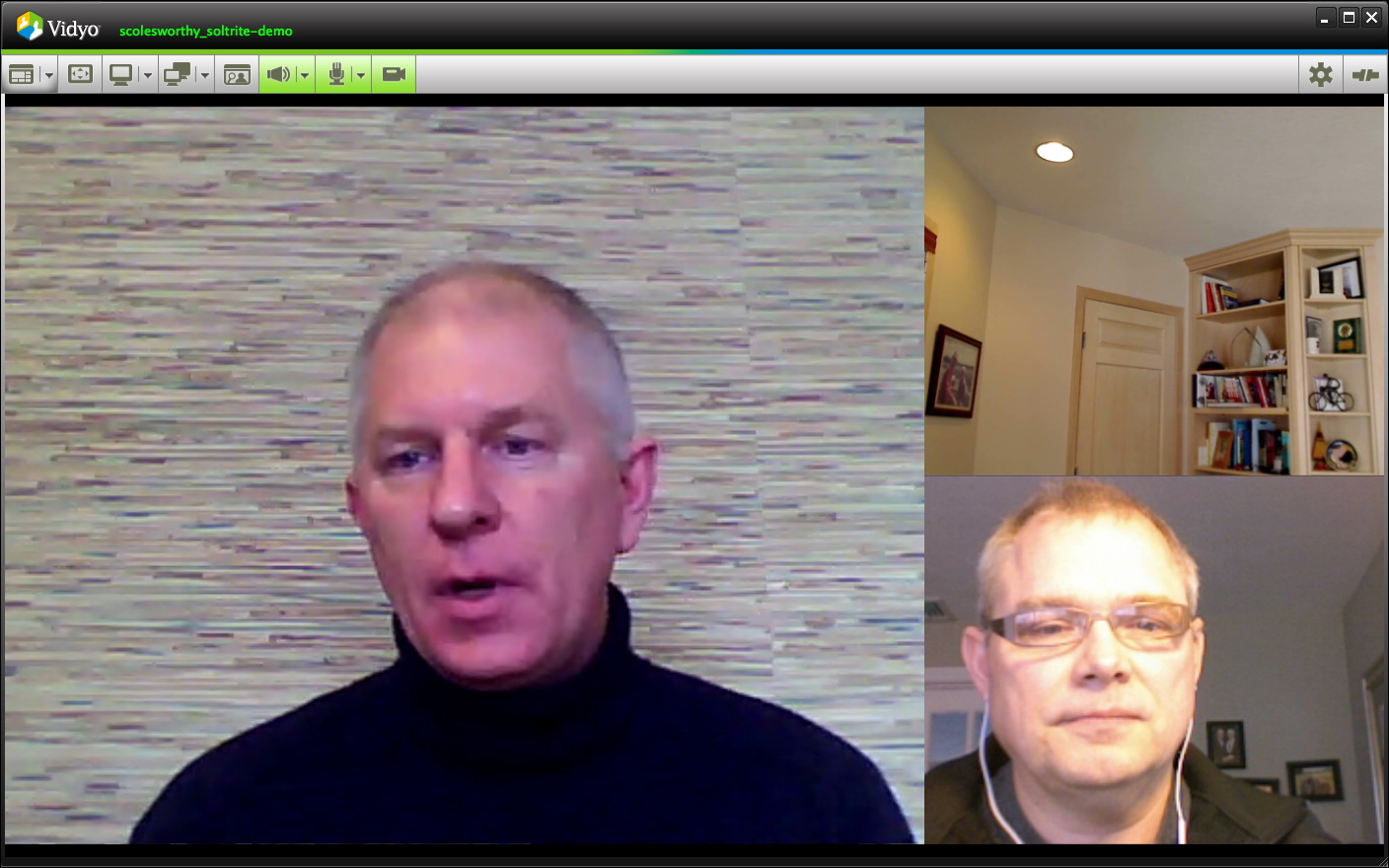 I had a really interesting briefing the other day with Scott Colesworthy (left), an entrepreneur who has established a subscription services business using Vidyo technology. It was interesting on a couple of counts.
First of all, it was a 3-way desktop PC video session. I don't get a chance to participate in these every day, and those that I have done were tiny, maybe 20 FPS and not particularly excellent quality or only available on PCs. The Vidyo technology at the heart of Scott's service worked with both Mac and PC technologies. It's a thin client implementation of Scalable Video Codec technology and delivers excellent video and voice quality to any Mac or Windows PC. Every session involves a server, so some of the processing work can be loaded onto the server, but more importantly the normal hassles of firewall traversal are gone since the firewall thinks it's an http session originated by the user it is protecting. Ports are typically opened in the dynamic range by the firewall since the user originates them and traffic is destined for the server and back. Of course the most secure environments will block these ports, but a quick call to IT can open them for these purposes.
At the same time, the executive system hassles of home office firewall configuration are non-existent. I just had to click on a link to join the session at the right time and my browser (Safari) download the appropriate Java applet. Scott says the Java code will soon be replaced with a flash implementation that also loads into the browser. The easy to use controls at the top of the screen enabled voice-switching and maximum of eight users in a single session.
Voice switching is that whoever talked last, gets the big screen, but there were a wide range of presentation options supported.
Secondly, it was to demo of Scott's service, called Soltrite. Here's a 3-screen shot of the desktop video conferencing solution in action. I was impressed by the quality of the image. No jitter, no pixelation, just clear, clean screens. We did experience a few service cutouts, but frankly some of those were of my own doing as I checked out the various controls of the application.
This experience changed my expectations for desktop video applications in business. PC desktop video can be reliable, simply implemented and a high quality experience. Watch this space for more on PC desktop video.
Soltrite also supports desktop sharing, but unlike Skype it can show the desktop and the speakers, so for a software product demonstration for example, the sales executive doing the demo can watch for customer visual feedback and can change the tone of the demo if they notice the customer is being inattentive, or has a question or wants to move the presentation along. Of course, these are a lot harder to do when the customer's on a video-less screen share.
This service costs only $29/month per meeting room. Soltrite also supports a concurrent session pricing model to where an enterprise subscribes to some maximum concurrent sessions. The central server manages the software download process to the browsers, supports bandwidth measurement, packet loss recovery technologies and session switching logic.
This post has already been read 0 times!
Edit