PalTalk Goes Enterprise – HearMe
If you've ever wondered what a consumer can do with broadband in their homes, PalTalk , the world's most popular desktop video conferencing service with over 4 million active members, is a strong answer. Users gather in chat rooms and participate in live video chat sessions involving each other. Topics are like most chat services – computers, politics, religion, environment, travel, and more.
Paltalk recently launched its enterprise division – HearMe (HearMe assets were acquired in a bankruptcy proceeding) in January 2007 – and we discussed the state of the enterprise desktop video conferencing collaboration space In a briefing with Matthew Gore, the VP of Marketing for HearMe.
The service is designed as a simple web-based implementation. Invitees to a desktop video conference simply point their browsers at the specific clients' url, participate in an authentication and computer qualification procedure, downloads the applet and then is connected to the appropriate virtual room. There users visit with others in real time where using a filmstrip metaphor, the participant video streams are displayed across the top of the workspace.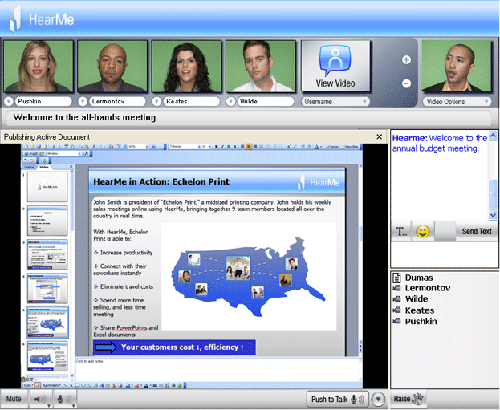 This screen shot is of the typical HearMe session. The room participants video streams are captured using H.264 video technology and displayed across the top of the window in a filmstrip mode. In rev 2.5, available only for Internet Explorer, users can share applications, Instant Message, share files and VoIP service is full duplex. Unlimited frequency and duration of a five person conference is $29/month.
Problems solved
In an upcoming report on Desktop Video Conferencing Experience, we've written that the role provided by video conferencing services is more than simply collaboration. This class of service provides an elegant solution to the addressing and security solution that SIP-based implementations lack.
SIP is a terrific protocol within the confines of the enterprise. However, there are issues in inter-organization service. Since most organizations use Network Address Translation (a different IP addressing system inside the company than the Internet address assigned to the router/firewall/gateway), firewalls can easily disrupt the call setup sequence and prevent the session from happening. This same upcoming report shows that most desktop video conferencing participants are from outside the company.
Desktop video conferencing has been around for many years but its potential as a business collaboration tool is really only getting off the ground now. HearMe is in the right place at the right time.
This post has already been read 0 times!
Edit