Mobile Instant Messaging – 3 – Management
187 mobile professionals gave their views on how they use mobile devices, applications and services. As well, I asked questions about the scope of potential new applications of interest to them. Here's what one segment, the management, administrative and IT professionals, said about mobile instant messaging.
How useful is mobile instant messaging to you?
Instant Messaging. Imagine a service where you and your colleagues are available for instant messaging from your mobile phone. You are given the option to click-to-call or click-to-IM. You can send real-time text messages securely to colleagues' cellphones or computers and gain insights into whether colleagues are in meetings, on the phone or offline.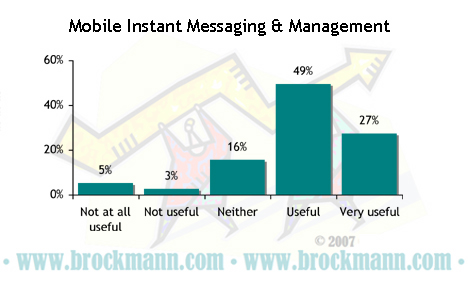 This post has already been read 0 times!
Edit