How to Download a Report From Brockmann.com
This simple tutorial summarizes how visitors can:
create an account
authenticate the account
login
select a report to download
begin the download process
1.Create an account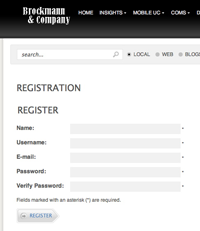 If you already have an account, skip to step 3.
If not, visit this URL , or use this menu selection from the main menu above:
REGISTER? > Create an Account.
At this page, you will be presented a form that requires your attention to complete. Please use a legitimate email address since you will be emailed a link after sending in your account registration details.
Once you complete the online form, click REGISTER button and wait to receive an email from our server.
2. Authenticate yourself
The Brockmann.com server will automatically email you an authentication email that looks like this one to the left. Clicking on the link activates your account (it proves that you really completed the form), starts up your default browser and presents you with a webpage on the site that recognizes you as having authenticated your account as shown in the lower left picture.
3. Login
Users can login at any page. At the bottom, there is the login box. Only authenticated users can login. Type in your user ID and password and Login. If the ID and password are in the database, you will be accepted. If not, try again or choose to get an email reminder of your password.
4. Select a report to download
We have written ABSTRACTS for each downloadable report. To find a report you want to download, go to the Abstract page describing the specific report and LOGIN, or login and then find the report you're looking for.
5.Download
Once you've logged in, you will see the Attachment box appear at the bottom of the abstract page. Click the report title and your browser download process will immediately begin and will deposit the report into your default download folder or defined container.
NOTE: Some reports require a licensing fee.
For these reports, (Inter-Company Telepresence Exchange Review and several mobile UC reports) there's no need to create an account, merely complete the online form and make the PayPal payment. You can use your company credit card to purchase a license using the PayPal processor.
We will be automatically notified of your transaction and will email the licensed report usually within 24-hours. Contact us if you'd like to have a faster response time.
This post has already been read 0 times!
Edit