CES: MagicJack Femtocell?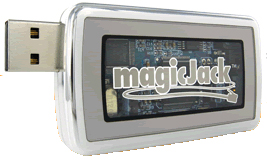 The consumer VoIP company, MagicJack, with a Canada and USA network of PSTN gateways and a USB-based ATA (Analog Terminal Adapter) has helped millions of consumers drop their PSTN line in favor of VoIP at only $19.95/year. At the Consumer Electronics Show (CES), the company promoted another USB dongle innovation – the MagicJack Femtocell.
The femtocell connects a GSM mobile phone in your house to their US&Canada VoIP network. Suitable only at low power, the inventors claim that the device won't need regulatory or mobile operator (AT&T and T-Mobile operate GSM networks in the USA, Rogers operates a GSM network in Canada) permission because it is a low power radio. Of course, there are better lawyers than me to expound on the legalities of this product. Nevertheless, coming on the heels of T-Mobile's discontinuance of its T-Mobile @Home service, it may be that MagicJack has the right formula. Price to consumers – $20 for the femtocell, and $19.95/year for the MagicJack service.
This sure beats the @Home pricing of $10/month on top of your mobile service. On the other hand, mobile services do extend further than the immediate proximity of my home. This phone can turn my company mobile phone which usually goes quiet after 6 pm, into a cordless phone when I'm at home, or perhaps turn my last generation mobile phone into a cordless extension for exclusive use at home.
No word on availability, but certainly a solid attempt at a second innovation from this simple, inexpensive miniature competitor to Vonage.
This post has already been read 0 times!
Edit