Well, actually, it's in the Apple App Store for iPhone, and now for iPad too.
Click or tap on the Available on App Store image on the right and you'll be directed right to our latest version.
Beyond ETFs is born out of frustration with professional financial advisor 'help' that really didn't help. It's born from years of disappointment with poor performance. It's born out of a willingness to try something new, but with an fresh understanding that owning a stock is nothing like owning any other product known to man. Unlike a smartphone, it doesn't respond to its masters' voice. Unlike a lamp, it doesn't do something specifically useful. Unlike a toy, there's no thrill of motion or a sound or an imaginary battle. It just appreciates. Or. It. Doesn't.
There are two amazing things about this app: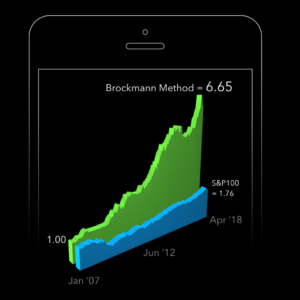 One is that it works. And works. And works, really well. The Brockmann Method, diligently applied has been shown to generate a return nearly 3X greater than then S&P 100 index.
Two is that it is so simple that we are truly surprised that nobody thought of this before. Beyond ETFs is designed to exploit one, simple, economic principal in combination with the insight of an academic researcher. It is a rules-based, proven and elegant methodology to beat the Index. I use it every day, and have since I started working on this project in early 2017. You see, I fired my financial advisor and with the help of my brother, Wilf Brockmann, decided that creating my own Self Directed Fund was not only possible, but wonderful (and high performance).
You can get more details on the background of Brockmann Method in the Brockmann Analytics and Trading white paper here. You can download the app for free and subscribe using your iTunes app account. For a limited time, subscribers get a 7-day FREE trial period.
Wait, there's More…
We're so convinced that you will appreciate the power of the Brockmann Method as embedded in the Beyond ETFs app for iPad and iPhone, we've enabled a 30-day FREE Test Drive.
Complete our short survey and you will get all of the power of a subscription for 30 days. Free. No obligations.