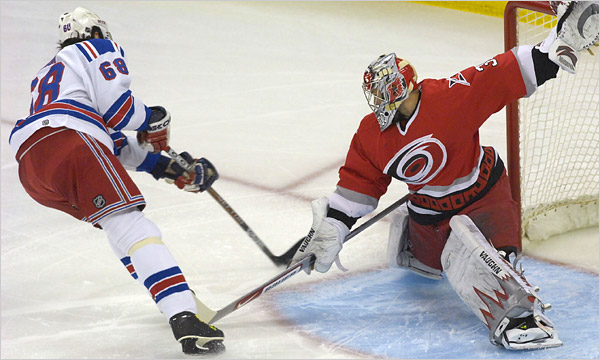 AT&T's Home Entertainment service (U-Verse TV) has signed an agreement with the NHL to broadcast 24-hour NHL content and live games on U-Verse TV. U-Verse TV now offers folks for $10 more, 25 channels of national, and regional, College, and Pro sports channels, which include Horse Racing, and International Soccer.
Now why would AT&T sign a deal with the NHL while it primarily has strong presence in the South, and Southwestern regions of the United States?
Also may I add that those regions are not exactly the hockey rich lands that the Northeast, and Midwest are in the United States, where Hockey clubs such as the Original 6 (Toronto, Boston, New York Rangers, Montreal, Chicago, Detroit) have been in existence continuously since, in some cases as early as 1909 in Montreal's case. Where in the South and Southwestern regions there are hockey clubs such as the Dallas Stars (1993 in Dallas), Florida Panthers (1993), these are fresh pastures for the NHL to cultivate fans. So this is a viewer-expansion plan for the NHL and an outreach to transplants from the North.
Also what has to be considered is not just the new fans to the NHL who are natives of the Southern, and Southwestern United States but the folks who are moving from Northern markets like New York and Boston down to Arizona, Texas, Tennessee, and Florida. Now it is possible and practical for a fan of the Boston Bruins living in Palm Beach, FL to access highlights, analysis and even games of the Bruins on the NHL's network from U-Verse TV's competitively priced package.
I witnessed first hand at the "untapped" fan markets of the South, when living in Dallas, Texas attending a Dallas Stars-Toronto Maple Leafs game, where a good third of the fans inside the American Airlines Center was wearing some sort of Toronto Maple Leafs apparel. This was not even your typical American Hockey club but a Canadian Hockey Club that had not won the Stanley Cup in some 42 years. (sigh)
My final analysis on U-Verse TV getting the NHL-Network is that this is a move that can only help the NHL gain more popularity in cities such as Nashville, Dallas, Phoenix, Miami, Tampa, and Raleigh.
For AT&T, this deal is about capturing customers that are underserved by the incumbent cable company. I'd expect more innovative content deals like this one in the coming months. Go Leafs! Go!
This post has already been read 0 times!
Edit