Armarac Takes Interop by Storm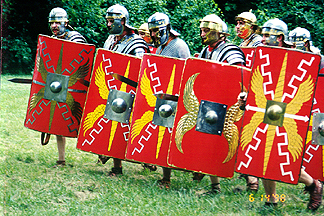 Ever wondered what a thureon is?
It's a a wooden shield as shown by these Roman soldier re-enactors (see www.legionxxiv.org for more).
It's also the name of a New Zealand company that wants to change the way the world stores and cares for servers, switches and routers. In preparation for Interop, I had a telephone briefing with Ross Vincent, the co-founder of Thureon – the company.
As yet privately funded and planning to secure VC funding to finance the business production expansion, the company is launching its first product – the Armarac, which sounds like 'armor rack' and explains precisely what it is. Finally, with all the makeover shows now on cable TV (satellite TV in my case) Ross Vincent and Darren Smith took up the design challenge of the telephone closet and remade that room into a beautiful and secure wall mounted integrated system.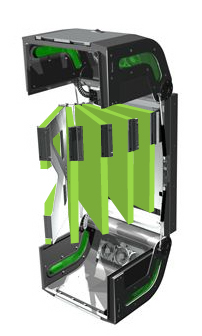 Storing up to six rack units in a vertical hinge system the company calls the Vertiblade, the enclosure enables six fans, AC, power strip, and locking doors (next rev to include networked locks so it can be opened by calling the help desk). On the outside doors is an optional KVM, flat panel and keyboard, so administration of the applications running on the appliances doesn't have to involve opening the Armarac.
This is the first show for the company, which is in process of signing up resellers and channel partners. They have a US sales director.
According to Ross, the key challenge for the company is one of timing – 'Great idea, but I won't be updating my closets for several years' and the absence of competitive product (a good and bad thing). The product will appeal particularly to education, retail, food service and construction markets. In the retail space, the IT department really needs to secure key information assets in remote stores while minimizing the floor space requirement. Most places might have the electronics share the lunch room. The Armorac will work to keep prying unqualified staff away. The nasty environment of a construction platform otherwise makes server life-cycles very short, so keeping the electronics mounted on a wall with cooling and physical security can only be a good thing.
The key value proposition is conserve floor space, protect servers against data loss, remote management and physical security of remote IT assets.
At $10,000 fully loaded, the package is priced for the premium it deserves. I think the key challenge is going to be to get folks to change the way they think about racks.
I'm definitely going to check out this booth at the show.
Related report – Hardware-as-a-Service.
This post has already been read 0 times!
Edit