Apple: iPhone Up, iPod and Macs Down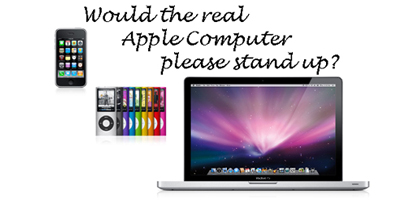 Apple is in quite a situation.
The Wall Street Journal article, "Apple Net Up 15% on iPhone Surge" by Ykari Iwatani Kane (subscription required) reports that iPhone has been an outstanding success for the company and a technology icon. But what this article brings to light is that Apple may be getting away from its bread-and-butter franchises of the Mac and iPod. Or, rather, customers may be dragging Apple away from their iconic franchises of Mac and iPod.
The iPhone did so well this quarter that it actually tripled revenues over year-ago results. Meanwhile the iPod revenues declined 11% and the Macs fell 8% over year-ago results, despite a modest 4% increase in shipments which was still better than most other PC manufacturers. "One weak spot was the iPod business. Apple said it shipped 10.2 million of the digital music players in the quarter, or 7% fewer than it did a year earlier".
[span class=inset-left]Apple accounts for iPhone sales over a 24-month period, so the recent surge in new iPhone sales will raise the results in future quarters too.[/span] Apple attributed the decline in iPod as a cannibalization, as users purchased iPhones and iPod Touch. Going forward, I'd like to see the company further accelerate sales of the iPhone with new enterprise-oriented applications for security, messaging and workflow. Apple should develop enterprise-oriented sales, marketing, integration and consulting services efforts to pitch the iPhone as the platform of choice for leading players of key industries. I bet if they organized this, AT&T would be willing to subsidize part of the effort, or at least facilitate a joint-sales effort.
This post has already been read 0 times!
Edit