An Emerging Triple Play: Video, UC and Managed Services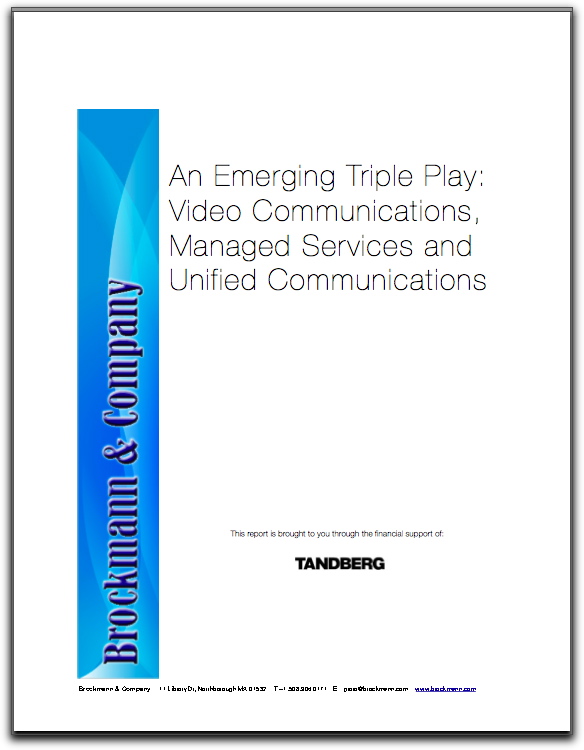 Key Findings:
Video communications are a strategic service as part of a unified communications environment.
Video managed service providers deliver comparative advantages to enterprise customers as specialists in managing service transitions – SD to HD, ISDN to IP, room systems to personal systems
Video managed services enable overflow demand for bridging and secure inter-company communications
Video VARs find new margin sources in a range of managed services
Service reliability is the top managed service decision criteria
Enterprise priorities for communications are easily addressed with managed services
An intriguing triple-play is emerging – the combination of video communications, managed services and unified communications – to create a new approach to inter- and intra-company collaboration and operational excellence. Video communications is going through a significant transformation based on the great improvements in equipment, the widespread availability of lower cost and higher speed networks and the increase in user expectations which raises thebar for experience-affecting service attributes. At the same time, in the broader enterprise communications environment, the latest software innovations classified as Unified Communications promise to sweep the entire market.
This spurs great increases in personal productivity since the boundaries of disparate real-time communications services are being blurred, opening the door to new kinds of integrations – integrations of communications with business processes to create new, proprietary communications-enabled business processes.Among the many effects of these market transitional dynamics, is the shift in margin sources for the channel, the value added reseller (VAR) that is selling, supporting and servicing communications equipment. With the technology shift from hardware-focused sales and service to software-based sales and managed services, the emerging Managed Service Provider (MSP) is rapidly developing extensive professional services or availing of virtual managed services to address acomplete set of enterprise needs, well beyond the equipment.
These services are categorized and discussed in light of the emergence of the virtual MSP, and in the context of enterprise communications services priorities. Enterprises are well served by contemplating the introduction of video managed services, particularly as the firm engages the technology transitions – standard definition to high definition, ISDN to IP and room systems to personal systems. The project management, operational disciplines and advanced session orchestration services are typical capabilities of MSPs which are well positioned to deliver their service at a lower cost and higher service reliability than the enterprise could itself. Enterprises would be well served to consider MSPs as video communications experts and partners inmanaging the transition to high quality user experiences.
This report is provided in part through the financial support of TANDBERG (now Cisco).
This post has already been read 0 times!
Edit