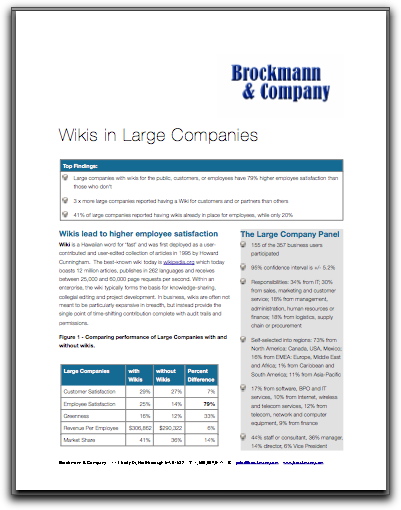 Wiki is a Hawaiian word for 'fast' and was first deployed as a user-contributed and user-edited collection of articles in 1995 by Howard Cunningham. The best-known wiki today is wikipedia.org which today boasts 12 million articles, publishes in 262 languages and receives between 25,000 and 60,000 page requests per second.
Within an enterprise, the wiki typically forms the basis for knowledge-sharing, collegial editing and project development. In business, wikis are often not meant to be particularly expansive in breadth, but instead provide the single point of time-shifting contribution complete with audit trails and permissions. They are a productivity and process quality aid since users can find things faster and can participate more fully in the 'way the company operates.'
This report reviews the practices of large companies (with more than 1,000 employees) comparing those that use wikis with those that don't and with other, smaller organizations. There is a solid link between the use of wikis for employees, partners and or customers to higher business performance.
This post has already been read 0 times!
Edit