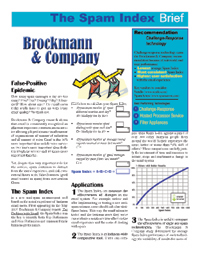 This two-page summary of the Brockmann & Company research The Spam Index Report discusses the methodology for determining the Spam Index, three applications of the proprietary method and recent findings comparing the Spam Index of eight anti-spam technologies.
Key findings
Challenge-response technology performed the best along three dimensions: Lowest Spam Index, most consistent Spam Index and highest user satisfaction with the email experience. ISP-based solutions were the worst performers.
Hosted processors and filter appliances categories came second and third in our study of over 500 business email users.
This post has already been read 0 times!
Edit