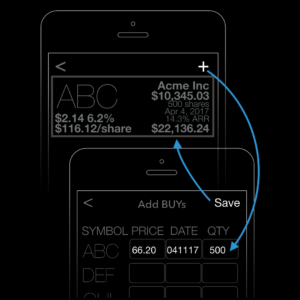 The personalized Scorecard features of the app depends on subscribers inputting their BUY*s and deleting their SELL*s. Tapping the Scorecard section of the app presents the Individual Stock Table.  This feature is exclusively for subscribers. It presents a listing of the stocks of the S&P 100 index organized into the BUY* zone, DON'T BUY MORE zone and AVOID zone. Every cell in the listing includes current price per share and today's change in $ and %. In the Navigation Bar (top right), the subscriber can tap the (+) to insect the Add BUYs  section. This is like a spreadsheet where the subscriber inputs their stock purchases with Price, Date (of the form MMDDYY) and the Quantity of shares purchased. Subscribers can Save their data inputs.
If a subscriber were to purchase a stock more than once at different prices on different days, they can certainly reflect that in Beyond ETFs by Saving the result of the first purchase. Then (+) again to add it the second time and Save it and so on and so on.
Deleting a stock from the Individual Stock Table happens once the stock is sold. Simply tap on the My Scorecard and scroll to the stock in question (note that stocks below the SELL* Threshold are at the top of the Individual Stock Table listing). Swipe left reveals the red Delete button. Tap the Delete button and the stock is gone from the app and from the Scorecard.