What's going on with Skype?
I got a not-connected message this morning and when I reconnected, all I got was a paltry 55 thousand or so others online. Usually, there were over 5 million subscribers on at the same time.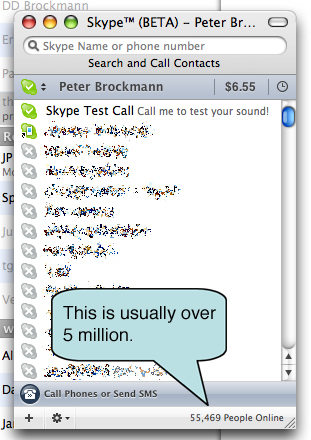 So I visited skype.com and got the usual notice: problem August 16, 2007 at 14:02 GMT – we're working on it. This has got to be a pretty severe software problem. That was 9:02 am EDT.
Our experience with Skype has been pretty impressive since implementing the service last year, and especially since we've gone all-Skype (other than mobile) for business voice communications.
This is our first outage, although we have had voice quality issues in the past. One of these was caused by a noisy neighbour who uses a SonicWall AP which causes no end of power punches for the other WiFi devices on the cul de sac. So, I enabled Internet Interference on my WiFi connection and reduced the power output on my Apple AP and solved that problem.
A call to the Netherlands was so bad the client kept dropping me (2X) and then he called my mobile so we could have a clear discussion, expensive, but certainly clear.
It will be interesting to discover the reasons for the outage. Here's my post at Om Malik 's blog, who speculated that this outage would drive VCs away from P2P companies.
I seriously doubt that this has anything to do with Windows. Skype implemented a software update that was completed at 7 am GMT on the 15th, which like RIM's infamous outage was an update that went bad. It's coincidental that a MSFT update impacted Tom Keating.

What this outage proves is that mobile voice is the natural fall back choice in times of disaster and stress. Didn't most Skype users just use their mobile phones instead?

A VC would be foolish to invest in a P2P technology because it was more resilient than another architecture. They should invest in P2P approaches because it can enable new kinds of services without much of the burden (read cost) of centralized approaches. New functionality, less cost. That's the ticket!
It seems that it's a login problem.
UPDATE: It's now 11:20 pm EDT (4:20 am GMT) and it looks like my client is successfully logged in with 2.3 million other folks online.
UPDATE: August 17, 2007 – 9:06 am EDT (14:06 GMT) and I'm still signed in. Seems resolved.
This post has already been read 0 times!
Edit