Powered Outdoor Displays, Networked?
I subscribe to many online sites and a few print magazines that IMHO really matter. One of them is BrandWeek. I like reading about innovations in advertising, the zany antics of TV commercials and the people who work in advertising – it's a very creative industry and one that I find just plain fun.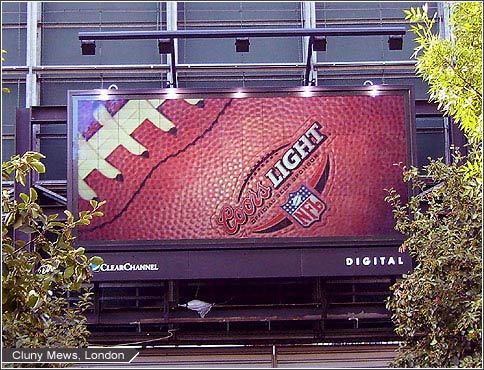 It harkens to my days at Nortel when I traveled to Chicago and 900 Michigan Ave where I'd hang out for the day with the creative team at J. Walter Thompson, who had our account.
Anyways, in the April 23, 2007 edition of BrandWeek, I saw an article about next generation display advertising created by – Magink Display Technologies.
These folks use a stringy-molecule that is apparently cholesterol-like and by aligning it in certain ways it produces a color on a display. In outdoor settings, they don't reflect light, consume less energy than classic LEDs, and so the billboard display shows very, very nicely. At the Cannes Film Festival last year, they debuted their solution by showing off clips of the movies in the festival.
Amazing!
I am reminded of another company, here in the Boston-area that produces elevator TV. Both of these platforms need networks to facilitate their operation and operate relatively simple server-to-endpoint broadcast systems. It seems the company has aligned with outdoor titans ClearChannel and JC Decaux to enable more effective time-sharing to increase inventory and revenues.
This technology, particularly if it compares favorably on a small scale could be the basis for a revolution in mobile deices and the batteries they consume. I wonder what the resolution is?
This post has already been read 0 times!
Edit