Nortel Sells Off Carrier Division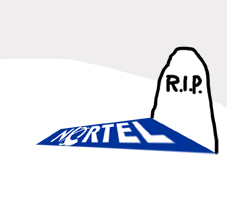 This past Friday, June 19, 2009 was a particularly sad day for Nortel observers. Mike Z., the CEO of the bankrupt company announced that the company agreed to sell the carrier division (largest customer is VerizonWireless) to Nokia Siemens Networks giving the European joint venture its first major foothold in North America and access to CDMA technologies which have been a big whole in their market focus.
Mike Z. said that the company missed out on the industry's recent consolidation in equipment suppliers and can't make it as an independent entity to address the carrier market. I say that Nortel missed out on the innovation cycle that matters and instead, under Mike's own leadership lacked the resolve (was it arrogance?) to be a willing, but small part of something big. If I'm not mistaken, the tax credits earned by Nortel for developing product in Ottawa is a part of why the carrier division is so highly profitable too – one analyst says that NSN will get their money back in the first year. This is a fire-sale, mostly because there are no other bidders. Ericsson isn't buying and Alcatel-Lucent would face overwhelming regulatory hurdles since it concentrates so much US market power in one company.
Huawei would love to buy, but the US government's national security concerns for the integrity of the national phone network (Nortel is a big part of that infrastructure not to mention thousands of private enterprises, some of which are defense contractors and its own Social Security Administration's large VoIP implementation) would not permit it.
I suppose NSN will still have a big R&D shop in Ottawa because the cost of operaitons are so incredibly low. I wonder what will happen to the other business units – Metro? Enterprise?
Sigh.
This post has already been read 0 times!
Edit