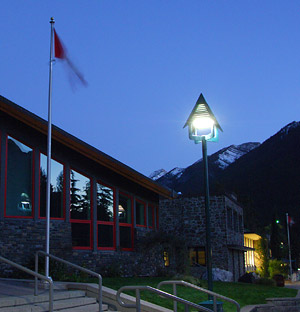 [[LED]] technology – Light Emitting Diodes – can be assembled and packaged to deliver brilliant lighting at lower energy levels than [[florescent]] bulbs (heating inert gas) or [[incandescent]] bulbs (heating a Tungsten wire filament).
In an article in the Economist, (December 1, 2007 page 79) Philips recent acquisition of Genlyte for $2.7 billion is discussed. Genlyte is a North American innovator in LED lighting and distribution. The deal makes Philips larger in lighting in the USA than GE.
Earlier, last month, the Town of Banff Alberta rolled out their LED street lighting experiment along Bear Street. The project is a collaboration with OPTO Optical Semiconductors. The expectation is to reduce power consumption by 36% and increase maintenance cycles significantly. The estimate is that it will reduce carbon emissions over the 10 year life of the platform by 324 pounds.
The Italian village of Torraca (map ) has rolled out new LED streetlights to become the first LED city.
Innovation in lighting, is a great step forward.
What about green innovations in networking, servers and computers?
This post has already been read 0 times!
Edit