Fixed-Mobile Convergence (FMC) Heats Up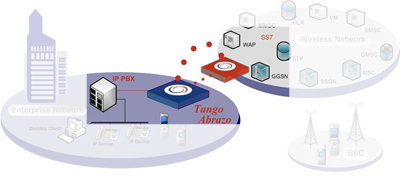 Tango Networks has a unique offering for enterprise FMC markets.
Recently, Brockmann & Company spoke with Alastair Westgarth, the COO of Tango Networks. Alastair worked at Nortel in the early 2000s in the wireless networks division HQ'd in Richardson Texas. We first met in Tokyo on the way to Bangkok for a Nortel sales meeting in early 2001, and then in the Allen TX Starbucks standing in line while Alastair was CEO of Navini Networks about 2002. Alastair has been COO for Tango since March 2007, but he's been on the board since the company's founding in 2005.
The company has an A round of $25 million early in 2007 including investments from strategic partners Nortel and Motorola, 62 employees with the engineering team based in Richardson and a direct and indirect sales model suited to their target markets – mobile operators and large enterprises.
The company offers two products platforms with software-defined functionality to denote the platform's role in the Tango system. The Abrazo E is an enterprise call signaling appliance, and its complement, the Abrazo C is the mobile operator's call signaling appliance. These two devices interoperate through a VPN infrastructure as appropriate.
Tango has a three-tier interworking plan for the world's IP PBX and PBX systems. In phase 1, Tango uses the appropriate API or interworking protocol – jTAPI, SIP, TAPI or proprietary methods – to deliver the most-popular call features and message waiting indication for the vendor's desktop phones to any wireless phone of the appropriate employee. Phase 2 means the deployment of more sophisticated services on the mobile phones without the need for a client, such as multi-line appearances or FMC configuration/administration. Phase 3 is reserved for more custom OEM-type interactions.
Progress
So far, they've demonstrated Abrazo E with phase 1 interoperability with major elements of Alcatel, Avaya, Nortel and Cisco product lines and have several large enterprises in field trials now. Phase 2 is complete for a few.
The carrier component, the Abrazo C works with GSM , IS-41 and IMS infrastructures and are in field trial or field trial negotiations with four tier 1 operators in the US/Europe.
Alastair pointed out that the goal for the company is to create a 'win-win' for FMC! Win for the enterprise and win for the mobile operator. Enterprises win with more call completions and therefore more productive and accessible employees. Mobile operators win by participating in creating new services that enterprises value – the delivery of private network functionality over public network services. This is a different approach than all other FMC solutions we've seen.
Challenges
This strategy depends on mobile operators and enterprises both seeing value for themselves, and recognizing that there's value in engaging the other party to the service. So, unlike those solutions that are enterprise-centric, this one will only work when the mobile operators are actively engaged.
The weak link in the strategy is the mobile operator. Right now, there is evidence that the enthusiasm of mobile operators for the enterprise mobile market is pretty weak, because it requires a 'sharing' of responsibilities to address the enterprise, something that is just too hard for most, at this time. Mobile operators have not been particularly good at selling to enterprise, lacking the organization, talent and economic desire to do so, despite the fact that enterprise users are premium consumers of wireless services.
Tango's direct sales channel is ideal to secure the leading customers that will really prove-out the system, but their reach is only effective with the largest enterprises who have sufficient numbers of mobile users and who can bring the operator to the project. On the other hand, these are exactly the same target enterprises as Cisco, Avaya, Nortel, NEC and others, who by design don't require special mobile operator interworking imposing other limitations on the solution.
Against this horde of enterprise specialists, the Tango model will only be as successful as the mobile operator can be a channel to the enterprise market. With the consolidation of fixed and wireless carriers this may not be all that far away, particularly in verticals that have been particularly strong in hosted services (Centrex).
This post has already been read 0 times!
Edit