ShoreTel, founded in 1996 and publicly traded since 2007 is based in Sunnyvale CA. The company has been an early and consistent participant in the IP PBX market particularly addressing the needs of small to mid-sized businesses in the 50-500 station range. Of course, the company boasts clients in the thousands of users and some with only a dozen users, but for the most part the company has built a solid business addressing the much-coveted midmarket. Unlike solutions from legacy vendors who chose to implement a hybrid digital-IP design, the ShoreTel solution is a completely IP offering requiring SIP phones or client software on computers at each endpoints.
The all-IP and SIP approach has made it simpler for ShoreTel to rollout and support other communications software such as ShoreWare's UC suite enabling applications such as web conferencing, instant messaging, presence reporting, desktop video communications and PC softphones. In these applications, the IP PBX provides the core state and capabilities awareness as well as the addressing and authentication services at the heart of an implementation.
ShoreTel Mobile UC Services
ShoreTel operates a three-pronged strategy for mobile services leveraging the ShoreTel-developed and branded client-server design for smartphones and a 'ShoreTel Certified' endorsement of the DiVitas offering for customers with demanding Wi-Fi campus applications where the advantages of a VoIP-client for the Wi-Fi attached device or dual  mode device is appropriate. Like most technology-certification or alliance initiatives, ShoreTel Certified means that the solution has been tested to work as advertised but ShoreTel does not sell or support the offering, but dealers may.
ShoreTel includes adaptations of business rules specifying call handling treatments that many mobile users find helpful without investing in specific mobile phones or more software licenses. These business rules can be based on a Microsoft Outlook calendar integration – so if you're in a meeting, the find-me-follow-me rules are suspended and the call goes to voicemail – time of day details where after 5 pm the IP PBX will not attempt to forward calls to the mobile phone, caller ID treatments for VIPs and includes an optional screening feature typical of find-me-follow-me services.
The ShoreTel-branded all-software mobile UC offering encompasses two elements:
The Mobile Call Manager client is installed on each

mobile device, and accesses call features, directory services, configuration information, voicemail and call logs. All mobile communications are managed by the other element of the solution, the Mobile Call Manager Server.

The Mobile Call Manager

Server is a server application installed adjacent or on the ShoreTel telephony server that interfaces between the call manager and the mobile user, managing all communications

including state information with Mobile Call Manager clients.
Communications between the Mobile Call Manager client and ShoreWare server are encrypted and can be further enhanced through the remote management services of a BlackBerry Enterprise Server (for BlackBerry users) or a corporate reverse proxy server. Minimum software required is ShoreWare 7.5, which was released late in 2007.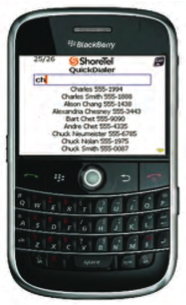 Clients for most BlackBerry, Windows Mobile, Nokia E and N-series devices are available and downloaded directly from the enterprise's Mobile Call Manager Server over-the-air. Administrators send an email with the embedded URL to the user who clicks on it from the mobile device's email reader screen and the automated process completes. List pricing is $95/user. iPhone client is in progress and expected in the coming months.
Advanced Mobile UC Features
Although the ShoreTel Mobile Call Manager solution does not incorporate typical softphone functionality such as VoIP call termination, instant messaging or call escalation (to video conferencing or web conferencing) it does deliver most of the same functionality for handling messages, adjusting call management features, call logs and corporate directory, including making calls from the corporate directory, where the IP PBX calls you first over the wireless network then once you answer, it calls the other party. Some services can be more effective in a mobile setting than on the desktop IP phone. As shown on the right, the ShoreTel QuickDialer feature is able to show coworkers in the directory as you type their names in the search window: a quicker dialer indeed.
The Mobile Call Manager also leverages the GPS chip in leading smartphones to enable or disable specific call treatments based on the users' location. This is an important capability since it automates the in or out-of-office toggling that many calling treatments will prescribe, but users often forget to enable/disable.
ShoreTel has been careful to avoid burdening the memory and storage-constrained mobile smartphones with sophisticated software and features that make for cool presentations, might save a few dollars on operator charges, but also drain the battery faster. Instead, they've chosen a more practical approach where they extend on core functionality that leverages the unique features of the mobile device to make enterprise communications and in particular, enterprise voice communications more productive.
This post has already been read 0 times!
Edit