Is Recovery Around the Corner?
The Wall Street Journal suggests that things may be bottoming out and the recovery may be just around the quarter. In particular, it was noted that for telecom, technology and consumer descretionary the analysts consensus on earnings at the end of the second quarter are better than they estimated at the beginning of the quarter. Still negative, but less pessimistic than going into the quarter.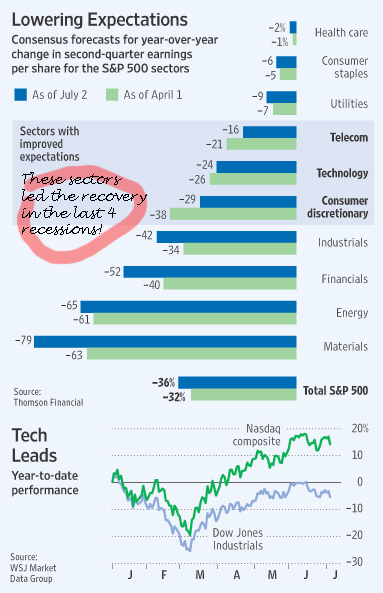 The Consensus forecasts for year-over-year change in second-quarter earnings per share for the S&P 500 that is displayed in the Wall Street Journal article, Crunch Time: How Tough Is Tech? (sub. required) by Mark Gongloff, shows that for industries such as Industrials, Financials, and Energy companies are expecting even more painful drops in expectations, the largest being Materials which was at -63% as of April 1st, to -79% as of July 2nd.
But the light of hope for the recovery seems is the Telecom, Tech, and Consumer discretionary industries. Their expectations have improved, from -38% to -29% for Consumer discretionary, -26% to -24% for Tech, and -21% to -16% for Telecom. Now these numbers may indicate many things but the one thing and the $64,000 question is, 'does this mean the recession is over?' and the answer is well, NOT BY A LONG SHOT. But it seems to be slowing down, and the leading sectors that are likely to get us out of recession are looking like the cliff is flattening out, leading to the recession may have bottomed out, which means a recovery is only so far away.
According to Peter's blog post from January 2009, "About The 2008-9 Recession…"  where it was mentioned that many of the last recession recoveries were led by consumer and IT spending. Note that Intel is up 24% this year, because semiconductors are at the front end of the manufacturing processes for tech…
This post has already been read 0 times!
Edit